SamSam disguises and decoration
A complete set for superhero fans !

In order to meet all needs, we offer a wide choice of SamSam items, officially licensed: disguises, mask, dishes, helium balloon ...
Something to delight little fans of the red superhero and allow them to immerse themselves in their most beautiful cosmic adventures !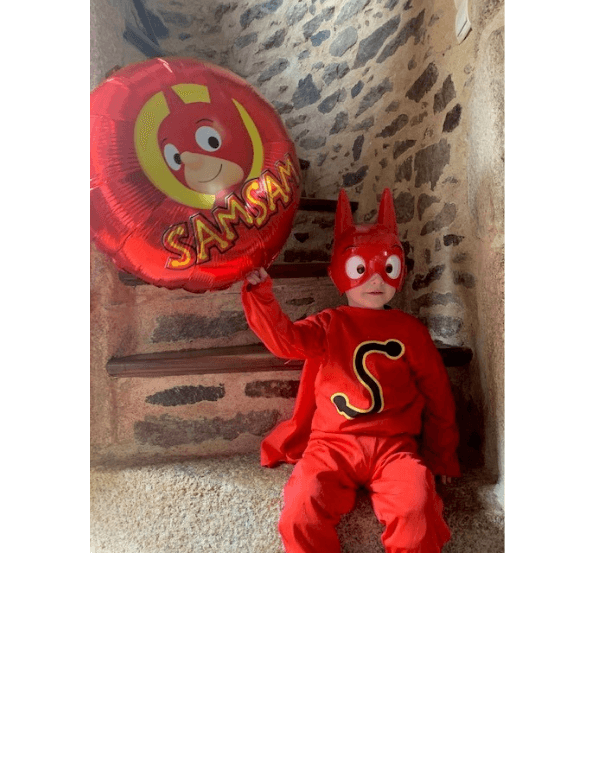 Our best SamSam products
SamSam Costume and decoration for children
SamSam the favorite superhero of children !
The the smallest superhero with his red costume, was born in 1999 with Serge Bloch.
For the first time, he appeared on the French book dedicated to child "Pomme d'Api", the smallest of the great heroes rose to the top in the hearts of the youngest. Today, SamSam achieves an notoriety rate of 78% among 4-10 year olds. The third most popular program for children, our little superhero doesn't stop there!
After conquering the "Bayard editions" in Pomme d´Api, the little cosmic hero set out to conquer YouTube. And no less than 119,000 subscribers follow his adventures on this medium.
And SamSam continues to rise! Indeed, since the first television broadcast of his series in July 2007, 91 episodes divided into 2 seasons have seen the light of day. Broadcast in 50 countries around the world, the television series represents 250 million viewers, including a 32% audience share in Europe among 4-10 year olds. Currently, a third season of 52 episodes is in preparation and will air in 2022.
To top it off, SamSam landed in theaters on February 5, 2020 in a feature film featuring his comedic adventures, surrounded by all the super-sonnies.