Movie fancy dress costumes - Coupez !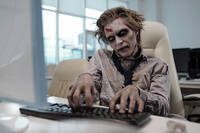 05/27/2022
Yesterday was the opening of the 75th edition of Festival de Canne.
First up is the french zombie movie "Coupez!" by Hazanivicius. With a 5 stars casting (Bérénice Bejo, Romain Duris, …) and liters of fake blood, we could only validate this film within the P'TIT CLOWN team.
If you also want to shoot a zombie movie with your friends, you will absolutely need our Halloween catalog: costumes, accessories, makeup, decoration…. everything is there!